Today's Opinions, Tomorrow's Reality

By David G. Young
Washington, DC, July 31, 2018 --
Intelligence reports say North Korea is building more missiles. The president doesn't want to hear it, and the public probably won't believe it.
When former CIA Director John Brennan denounced President Trump's for treasonous behavior over his fawning meeting with President Vladimir Putin1, Trump opponents cheered. Establishment Americans were finally calling out America's unconventional leader for his disrespectful treatment of security institutions ranging from NATO to the CIA.
Outrage was so widespread that it even included most commentators at Fox News — the insulated president's favorite TV network. Like most Americans, they were shocked that Trump chose to dismiss the conclusions of America's intelligence agencies in favor of Russian propaganda. Under intense pressure, Trump soon walked back some of his comments and declared his "full faith and support for America's great intelligence agencies."2
It wasn't quite an apology, and it probably didn't do much to soothe feelings at the CIA. Trump has made it very clear in public statements that he has no interest in hearing intelligence that contradicts his preferred narrative. The President has repeatedly insisted that Russia did not meddle in the 2016 election that brought him to power. Even if he is periodically forced to make statements acknowledging reality, he always returns to insist it may not have been Russia or that it did not happen at all. Anybody in the FBI, NSA or CIA who makes claims to the contrary is branded as a Hillary-supporting enemy to be fired, prosecuted or stripped of security clearances.
Given the seething animosity between the president and the intelligence community, it should be no surprise when intel going against the president's narrative gets leaked to the press. Yesterday, the Washington Post published an anonymous report that North Korea is producing new intercontinental ballistic missiles3. The leak included a photograph allegedly showing partly-completed submarine-launched ICBMs at a facility near the North Korean capital. This flies in the face of the President's other reality-defying narrative — that he has reached a denuclearization agreement with North Korean dictator Kim Jong Un, and America is no longer in danger.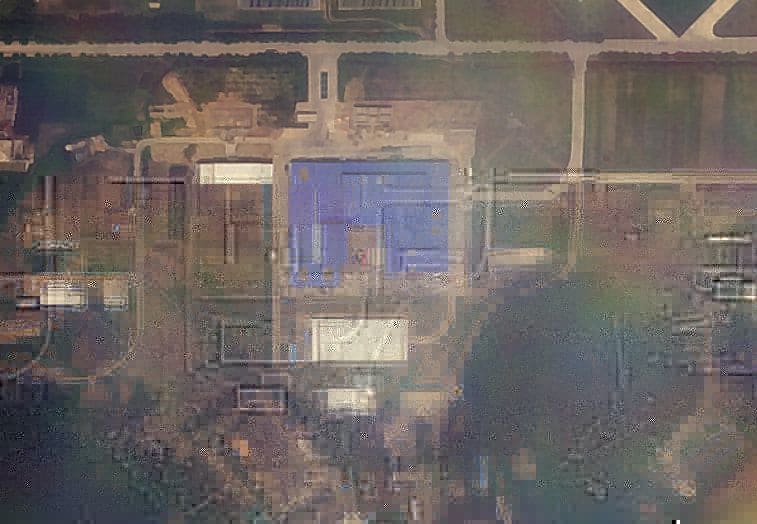 Missile Assembly Buildings, North Korea 2018, Iraq 2002
Sources: Washington Post, Dept. of State
The idea that North Korea would continue building nuclear weapons despite promising otherwise is totally consistent with the North Korean regime's past behavior. Despite striking a deal with the Clinton Administration to mothball its plutonium-based nuclear program in the early 1990s, North Korea started a parallel nuclear program in secret. In late 2002, a North Korean diplomat admitted to U.S. officials that the country had been secretly enriching uranium for years.4 By the time this information became public, North Korea already had the bomb.
Trump's June summit with the North Korean dictator and insistence that denuclearization plans are on track are undermined by these intelligence reports. How will the president react? Will he ignore, deny and refute them as he has done with unwelcome reports about Russian election meddling?
Trump's Secretary of State Mike Pompeo, himself a former CIA Director, testified before Congress last week that North Korea continues to refine Uranium, but declined to answer questions about its continued missile production. But even if Pompeo accepts reality about North Korea, it doesn't necessarily mean that his boss will do the same.
While negotiations with North Korea are still early, the regime's past behavior suggests it will never give up its nuclear capability. If the CIA keeps reporting facts that confirm this reality, it will keep it on a collision course with a President who has already shown a deep lack of respect for the agency. If the President is forced to face reality and give up on his North Korean friend, war may be inevitable. If he sticks his head in the sand and ignores the CIA, America's intelligence agencies will be further marginalized.
Of course, this isn't the first time that the CIA has dealt with a president with a reality-defying narrative that affected the agency's business. Back in 2002, when North Korea came clean about uranium enrichment and said it had the bomb, it did so to warn America that the North Korean leg of President George W. Bush's Axis of Evil would not easily fall.
Fortunately for the Bush Administration's war plans, it had already set its sights not on North Korea, but Iraq. The CIA dutifully supplied evidence to suppor President Bush's pre-ordained narrative that Iraq was hiding weapons of mass destruction from United Nations investigators. "It's a slam dunk case," George Tenet, Bush's CIA Director so infamously said.5 We all know now that the intelligence was completely wrong, and that while White House pressure played a part, it was largely flawed intelligence techniques that led to incorrect conclusions.6
Today's grainy satellite photo of a missile assembly building leaked to the Washington Post is eerily reminiscent of a similar picture of a missile assembly building used by Secretary of State Colin Powell to make the case for the invasion of Iraq. While the intelligence community was wrong back then, it is probably right this time. But given its past failures, don't expect it to convince a president who doesn't want to listen, or the general public that has been burned once before.
---
Related Web columns:
Freeing the Hostage
The Path to the Second Korean War, October 17 2006
A Dangerous Distraction, December 24, 2002
---
Notes:
1. Twitter, John O. Brennan, July 16, 2018
2. National Public Radio, Trump Walks Back Controversial Comments On Russian Election Interference, July 17, 2018
3. Washington Post, U.S. Spy Agencies: North Korea is Working on New Missiles, July 30, 2018
4. The New York Times, North Korea Says it has a Program on Nuclear Arms, October 17, 2002
5. Washington Post, George Tenet's 'Slam-Dunk' Into the History Books, June 4, 2004
6. The Guardian, WMD: How it Went Wrong, January 31, 2004