personal stuff about David

Young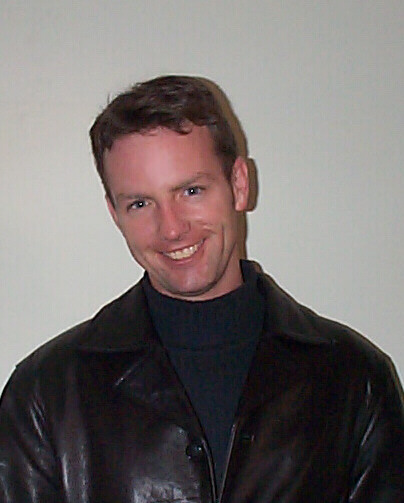 My name is David G. Young. Some say I can be a bit obnoxious, which I'm trying as hard as possible to suppress in the picture to the right. This is only because I was using the picture to try and get a high rating on hotornot.com. I did pretty well, helping fuel my already stratospheric ego. Just don't let them see me and my pasty white skin in the bright sun with bed-head.

I live in lovely Washington, DC. I believe that Washington is one of the most beautiful cities in the world -- certainly one of the most beautiful in the United States. Check out the picture of the gleaming Capitol dome on a fall afternoon. I dare you to disagree.
The historic beauty of the Capitol Hill neighborhood, as well as its low-key urban feel, led me to make it my home. You can see my typical rowhouse in a picture below. Of course I don't own the rowhouse, because buying in Washington's insanely inflated real estate market is unconscionable. I just rent a single floor, but it's a fantastic place, and I've been there for over 10 years. That's a long time for a renter, I know, but as foreclosures pop up all around me, don't bother convincing me that buying is a better financial decision than renting.
My rowhouse has a beautiful beer garden (note how this sounds more manly than "patio") in back, where I can frequently be found on warm evenings. I use my beer garden to barbecue, relax in my hammock, and... well... drink beer. In the winter, I have to hang out inside, but I make good use of my fireplace, and my 19th-century living room with exposed brick is pretty cozy.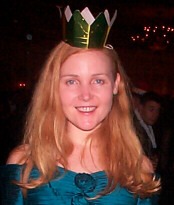 David G's Wife
Of course, I only enjoy the comforts of my apartment when I'm at home, and since meeting my adorable chica Kerry, I'm hardly ever at home. It's a close contest for who's more high-energy, and we're usually out doing something insanely cool by mid-morning. Her picture shows her sporting a New Year's eve crown, but she might as well be the queen of fun. Hanging with her is like being on year-round vacation.
But vacations aren't just for home. Kerry and I love to travel, and have been all over the world. Check out my travel page (see the link above) to read about some of our journeys. We tend to go to the most primitive places with the most spectacular sights -- this way we'll get to see them before they get blown up by the intellectual heirs of the Taliban, or worse yet, bought up by Disney.
My sweet little convertible is also shown here. Perhaps the only good thing about having hit the big 3-0 is that I can now actually afford the insurance on a sports car. The car also helped me to get my mid-life crisis out of the way early. I park the car on the street in my neighborhood, so if you need a new stereo, you know where to find one.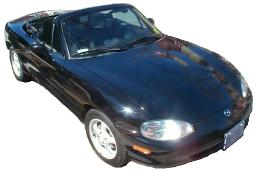 Ample parking used to be more important to me for a place to live because for a long time I had to get high-tech jobs in giant office parks way out in the suburbs. Thank God that Al Gore invented the Internet! Now I can work downtown for the likes of internet startups like Revolution Health. They've kept me around for a few years so far. But nothing lasts forever in our fast-moving economy. You can see a link to my resume here, so hire me if you think you can make me a sweet enough offer to tear me away.
Last Updated Spring 2008