Today's Opinions, Tomorrow's Reality

By David G. Young
Rio de Janeiro, March 17, 2020 --
Brazil provides an example of how to sanely and responsibly deal with the coronavirus outbreak.
There is plenty of toilet paper in the supermarkets of Rio.  As of last week, there were shelves filled with hand sanitizer and disinfecting wipes, too.  What's more, nobody seemed much interested in them, except this crazy gringo who took pictures to tease his panicked relatives in America.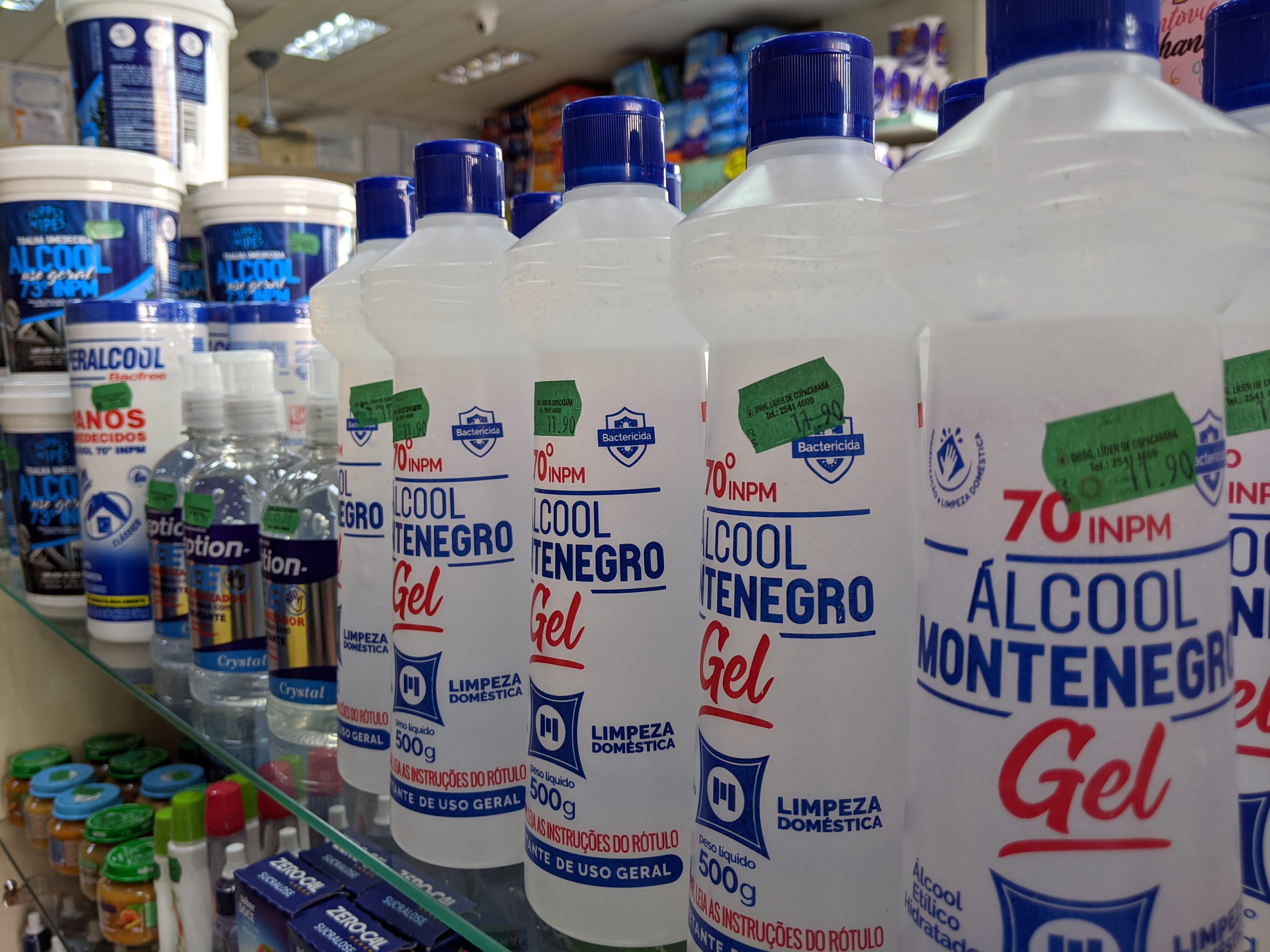 How Much Would You Pay?
Photo © 2020 David G. Young
Despite hundreds of coronavirus cases around the country and dozens in Rio de Janeiro state, Brazilians have been refreshingly free of the panic gripping the United States. Indeed, it is America that has been imposing its craziness on Brazil.  Last Thursday, Fox News joined several other media outlets in incorrectly reporting that Brazilian President Jair Bolsanero had contracted coronavirus.1  The truth was that he tested negative, but the corrected story didn't come out until after the panic-obsessed American media had been spreading disinformation for hours.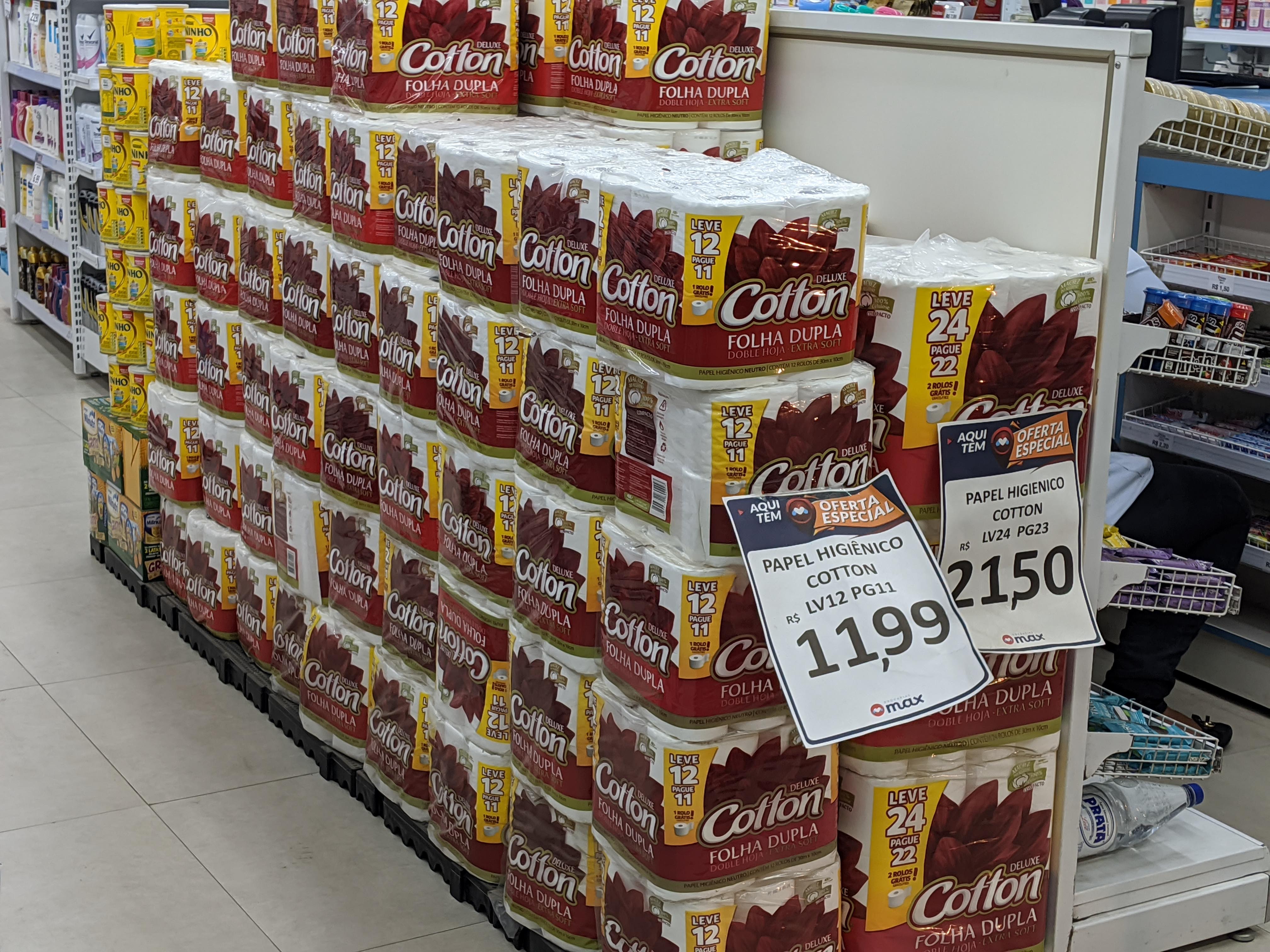 No Panic Buying Here
Photo © 2020 David G. Young
The larger story was that the press secretary for the president, not the president himself, had contracted the virus.  And apparently, based on timelines, Fabio Wajngarten probably contracted it  on a trip to the United States where he posed with President Trump at Mar-a-Lago wearing an embarrassingly stupid "Make Brazil Great Again" hat.2   
Brazilians are not unaware of the risks of Coronavirus.  Since the first case was confirmed on January 21 in a resident of Sao Paulo who had travelled to Italy, 234 total cases have been confirmed4, mostly traced to other travelers to Europe or the United States, or to their friends and family.  The only other North American-originated case announced so far  is from an elderly Canadian on a cruise ship who was taken to a hospital in Recife on March 12 after spiking a fever onboard.5
But while Brazilians are aware, there is no panic buying.  Wearing masks in public is rare.  Restaurants, bars and beaches are full.  The primary visible change is in greetings.  The guy rolling the acaì cart on the beach is likely to greet you with an elbow bump rather than a handshake.  
Brazil, of course has had significantly fewer cases to date than the United States.  It didn't even get its first case for over a month after the United States, and the 234 casesin the country are about what the United States had confirmed by March 65,  about 11 days ago.  But this point in America's epidemic, the stock market had already started its decline and supermarket hoarding had already begun.
Things are starting to change. Today, the state government of Rio cancelled all busses between Metropolican Rio and other parts of the state. It also ordered movie theaters closed and ordered restaurants and bars to cut capacity.6 In the resort town of Buzios, just east of Rio de Janeiro city, many pharmacies are now out of hand sanitizer, and one posted a sign on the door announcing the outage Monday evening.  Some cashiers in the Princessa supermarket chain began wearing surgical masks.  But the stores remain as well stocked as ever, and plenty of toilet paper is to be had.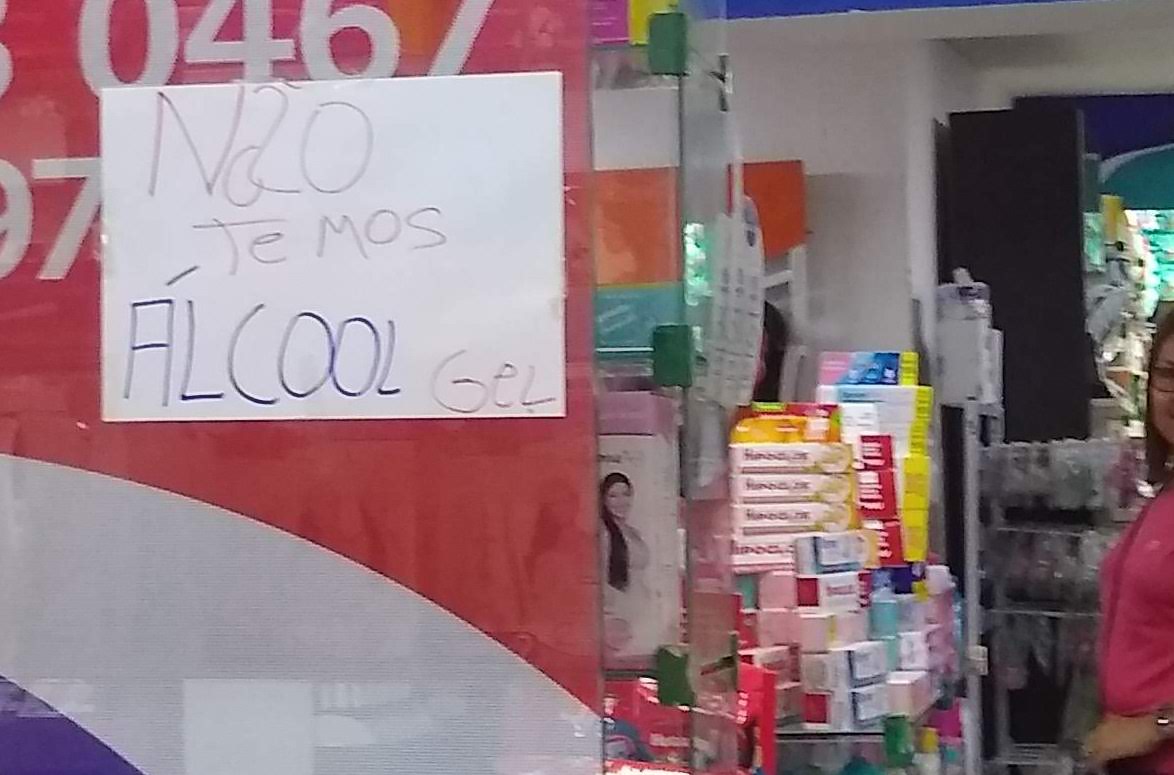 Missed Your Chance!
Photo © 2020 David G. Young
Brazilians simply may be less prone to hoarding and panic than their North American neighbors. But they may also prove more prepared.  For months since evacuating Brazilians a from Wuhan,  health officials have been tracking and reporting counts of suspected cases and rigorously testing them.  The vast majority have come back negative and continue to do so.  This stands in stark contrast to what happened in the United States where very little testing took place until community spread took the nation off guard  and cases began growing exponentially.
With luck, continued testing and help from a warm and humid climate, Brazil may be able to escape an explosion in cases now gripping Europe and North America.  If not, at least it may be able to avoid following the terrible example utter panic seen in the Northern Hemisphere.
---
Notes:
1. Poynter, Brazilian President Bolsonaro's Coronavirus Test Shows How Media Can Misinform, Too, March 13, 2020
2. CNBC, Brazilian President Bolsonaro, Who Dined With Trump, Says He Tested Negative for Coronavirus, March 13, 2020
3. Brazilian Ministry of Health, Notificação de Casos de Doença Pelo Coronavírus 2019 (COVID-19), March 16, 2020
4. US News, Brazil Isolates Cruise Ship in Northeastern Port After Suspected Coronavirus Case, March 13, 2020
5. Wikipedia, 2020 Coronavirus Pandemic in the United States, as posted March 17, 2020
6. G1 Globo, RJ Restinge Linhas Intermunicipais de Ônibus e Isola Regiāo Metropolitana para Conter CoronaVírus, March 17, 2020