Today's Opinions, Tomorrow's Reality

By David G. Young
Miami, December 15, 2020 --
The enormous vessels built by the cruise industry are now idled and worthless.  The industry's best days are gone.
A nearly empty Oasis of the Seas passed two other idle cruise ships on its way into the Port of Miami last week.  Its passenger capacity of 6,7801 makes it tied with a sister ship as the largest vessel in the world by that measure.   It is perhaps the most expensive vehicle on earth rendered temporarily worthless by a global pandemic that has completely shut down the industry in these waters.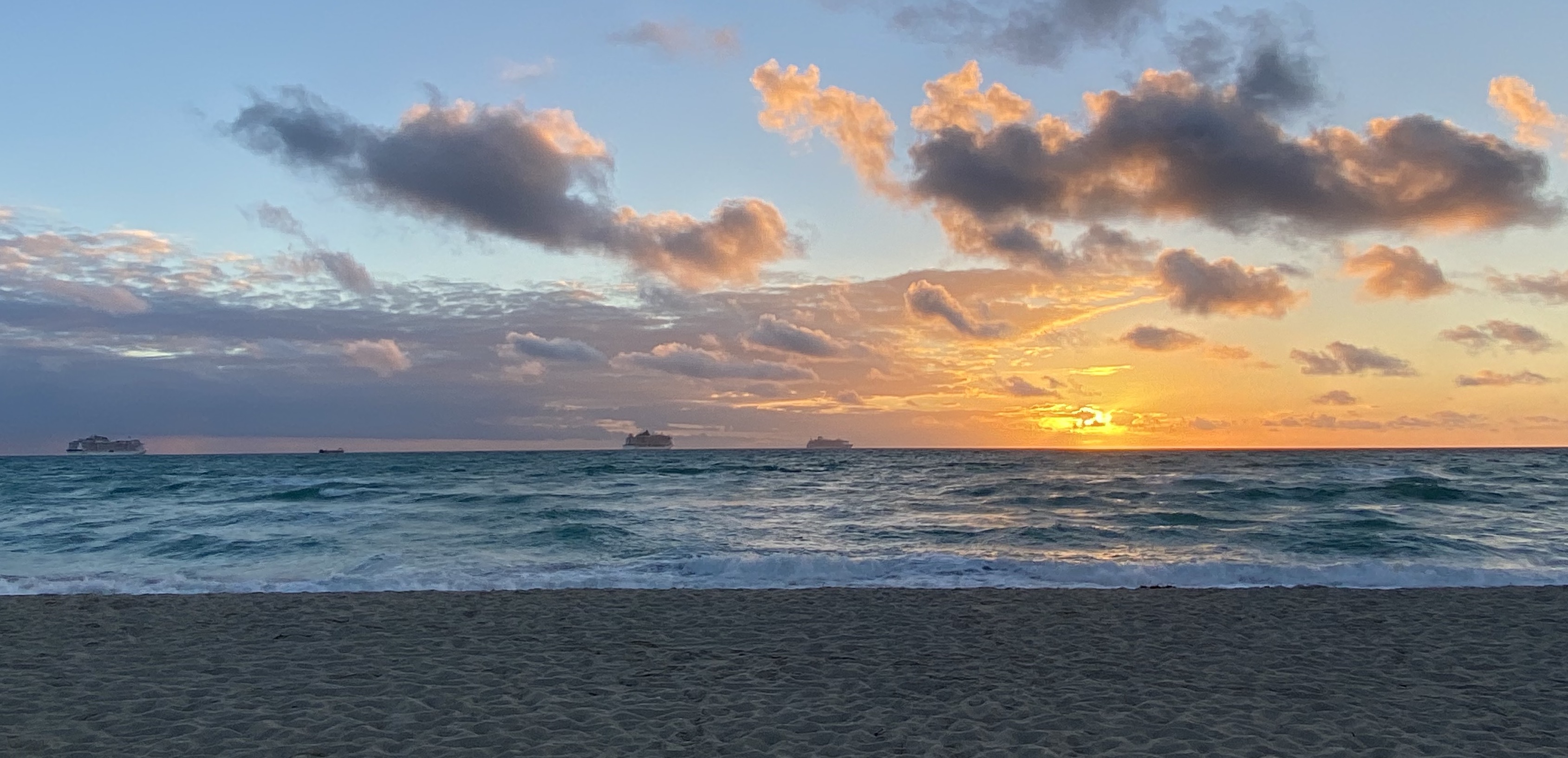 Temporarily Worthless
The MSC Meraviglia,  MSC Seaside and the Oasis of the Seas just off Miami
Photo © 2020 David G. Young
The Royal Caribbean ship had left a flotilla of 20-odd cruise ships anchored 140 miles east of Miami2 near Little Stirrup Cay in the Bahamas -- a tiny sand island owned by the cruise line and better known as the "Coco Key" theme-park-like destination for its customers.  Except since the U.S. Centers for Disease Control and Prevention shut down cruise ships from operating in U.S. waters last spring, the waters around the empty theme park have become an aquatic parking lot for dozens of idle cruise ships from a number of companies.
Neighboring Great Stirrup Cay is owned by cruise giant Norwegian.  Its vessels also float idle in those waters, as do those of Carnival.  The locale is just a few hours away from the Port of Miami, a convenient depot for resupply and crew rotation thanks to its container port and nearby international airport.  The two other vessels anchored in international waters just off Miami Beach are owned by European cruise company MSC.  All these idled companies are in the same boat, so to speak.
While the CDC ended its ban on cruising from American ports as of October 31, the industry remains stalled.  Royal Carribean cancelled all sailings until at least April 13, as has MSC4 and most of their other competitors.  Those ships will be floating idle between Miami and the Bahamas for months.
The problem is that the CDC's permission to restart comes with a list of 70 conditions regarding sanitation, testing, ventilation, and social distancing that must be put in place as operational plans.  These plans must be sequentially demonstrated to inspectors, ultimately in a sequence of trial cruises with volunteer passengers.5  
So far, no vessels have been cleared to begin these trial cruises.  Royal Carribean says that over 150,000 people have volunteered for the free sailings -- demonstrating that demand for cruising remains (at least when it is free.) 6  But even rosy projections for when these trial cruises might start all mention early 2021, with sometime in January being the most optimistic date mentioned.
Unfortunately for the cruise industry, optimistic projections have been failing to come to pass for over six months.  Bad news keeps rearing its ugly head to cause further delays. Just last month, the UK-based Sea Dream operating in the Carribean outside U.S. jurisdiction had to disembark all passengers in Barbados due to a coronavirus outbreak on the ship.7 The fact that a small vessel with fewer than 100 passengers could not prevent an outbreak does not bode well for the prospects of giants like MSC and Royal Carribean which have monstrous boats that hold 60 times as many passengers.
And don't think bigger means better when it comes to sanitary procedures.  Royal Caribbean's gigantic Oasis of the Seas, the one that entered the port of Miami last week, had an outbreak last April that led to the deaths of three crew members with dozens of others sickened.8  Perhaps the faces of the dead should be placed on advertisements for its sailings, much like the scary pictures of diseased smokers placed on the packs of cigarettes in many countries.
Adding to the industry's troubles, cruise destinations are piling on restrictions to limit the giant ships from overwhelming ports with thousands of unsophisticated day-trippers.  Last month, Key West, Florida passed a law banning large cruise ships from docking at its port, and severely limiting the number of smaller vessels.9  That's especially bad news for the cruise giants, which have been scrapping their smaller less profitable cruise ships in ship graveyards in Pakistan, Turkey and elsewhere.  All of the remaining ships operated by the major cruise lines that ply the Caribbean are covered by the Key West ban.
Even if customers' fears of sickness and death are assuaged by passage of time and the deployment of vaccines, cruising will never be like before.  It seems unlikely that as many people will want to be cooped up on a ship with 6,700 other people where several died of a contagious disease, when one of the few places they get to go is a company-owned theme park 140 miles away.  
Clearly, giant ships like the Oasis of the Seas and the giant companies that own them like Royal Carribean won't be going away any time soon.  The 150,000 people who signed up for the free trial voyages shows that demand remains.  But big companies more often meet their ends with a whimper rather than a bang.  Given that the cruise industry faces headwinds on so many fronts, it's best days are most certainly behind it.
---
Related Web Columns:
The Perils of Wishful Thinking, September 22, 2020
Brought to its Knees, July 28, 2020
---
Notes:
1. Vessel Registry, Oasis of the Seas, as posted December 15, 2020
2. Royal Caribbean, Where are Royal Caribbean's Ships Right Now? December 11, 2020
3. Ibid., All Royal Caribbean Sailings Canceled until at Least March, December 11, 2020
4. Travel Pulse, MSC Cruises Cancels US Sailings Through Feb. 28, December 3, 2020
5. Orlando Sentinel, Port Canaveral Officials Deal With COVID Reality for Cruising's Return, December 9, 2020
6. Cruise Industry News, What We Know About Royal Caribbean's Free Test Cruises, November 12, 2020
7. USA Today, Passengers Disembark from Caribbean Cruise that had COVID-19 Cases, November 16, 2020
8. Miami Herald, A Third Oasis of the Seas Crew Member Dies From COVID-19, May 4, 2020
9. USA Today, Key West Votes to Ban Large Cruise Ships from Docking, Limit Cruise Visitors to 1,500 per Day, November 5, 2020