Today's Opinions, Tomorrow's Reality

By David G. Young
Miami Beach, February 23, 2021 --
Silicon Valley moguls are jumping ship for Miami. Don't expect their underlings to follow.
Gridlock on the freeway with backed up cars stretching for miles is a daily occurrence in Miami.  This is not just in a rush hour phenomenon, but something that happens on any random weekend afternoon.
The automobile-oriented sprawl that created this mess would be painfully familiar to any resident of Silicon Valley, which shares the same mid-century sprawling development and near total lack of public transportation.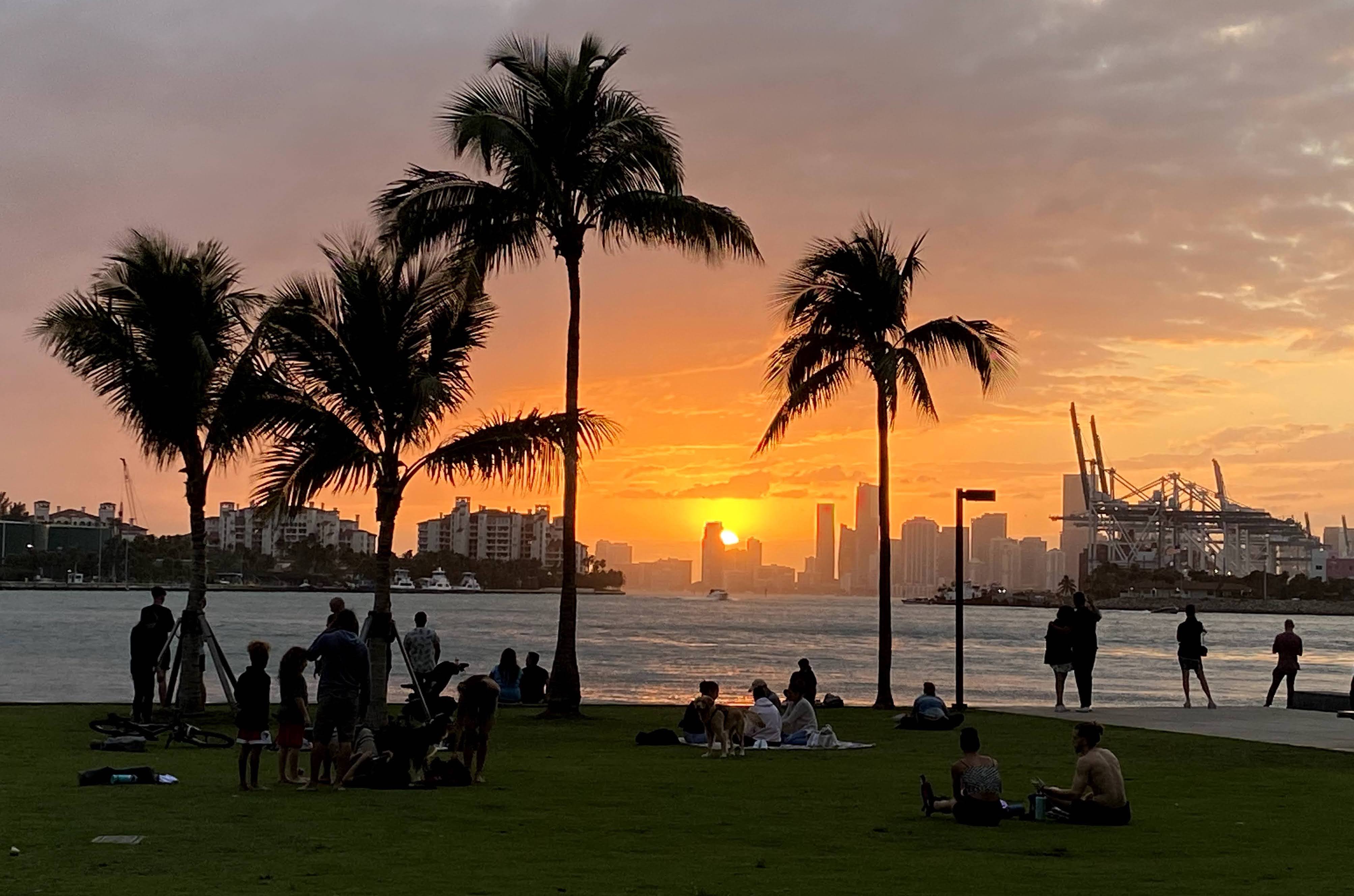 The new tech horizon
Photo © 2021 David G. Young
The familiarity of the environment, along with Florida's lack of a state income tax makes the city attractive to tech moguls fleeing high taxes and regulations for a more business-friendly environment.
For better or worse, Florida has had none of the pandemic's lockdowns that have shuttered California's workplaces and sent workers fleeing for more affordable locales.  In Florida, restaurants are packed — pandemic be damned.
This dichotomy has seen a number of high profile Silicon Valley personalities snap up mansions in Miami Beach and other tony areas. PayPal co-founder Peter Theil, investors Keith Rabois and David Blumberg.1,2 have all moved over the winter.   They join other moguls moving to the area in recent years, including Reddit's co-founder Alexis Ohanian and Shuttersock's founder Jonathan Oringer.2
Miami's mayor has encouraged the exodus fantasized by these tech titans, and has welcomed an offer by the world's richest man Elon Musk to use his Boring Company to tunnel the city out of congestion.3   The city's waterlogged and porous limestone ground probably makes this a dubious prospect.  But even a fantasy solution for one of Miami's traffic problem is alluring.
Not to be left out of the action, the separate municipality of Miami Beach is seeking to redevelop three central surface parking lots as expensive office space.4  The huge pieces of property border the Lincoln Road entertainment strip and an office building emblazoned with the logo of Wix.com — a web hosting provider that is one of the few tech companies with a visible presence.  The city's redevelopment plan envisions diversifying the tourist-dominated economy with something that can smooth the ups and downs caused by Zika, hurricanes and the coronavirus pandemic.
The relatively affordable cost of a Miami Beach mansion may look great to a billionaire tech mogul plunking down cash.  But the city's draw is a much more dubious prospect for the tech world's underlings. It will be a hard case to convince a 30-something software engineer to get an $800,000 mortgage on a Coral Gables ranch house that could be flooded by rising sea levels before the last payment is made.
And his single colleagues will hardly be enthralled by the prospects of the city's high rise apartment living.  Miami has plenty of  20 floor glass towers facing the bay, but searing sun will force programmers to keep their blinds down 24-7 so they can see their screens to code and play video games.  There's a reason you don't see lots of pasty nerds on the beach.
The love life prospects of a young single engineer in the Bay Area may not be stellar, but they are far better than in Miami Beach where the young single women likely speak Spanish or Russian, spend their free time working out at the gym and dating guys who lift weights and drive Porches or muscle cars.  A pencil-necked geek won't get far.
The simple truth is that Miami has almost no intellectual life.  It has no top-tier universities, a small startup scene, and a wealthy elite composed of retirees who made money elsewhere, real estate magnates, personal injury lawyers, drug lords, and relatives of foreign dictators.
Of course, it's not all bad.  South Beach has a beautiful collection of Art Deco buildings and a stunning location on the Atlantic.  Miami's Winwood warehouse district has plenty of hipster spots for tech workers to blow off steam, and apartments starting around $1,500 per month -- significantly cheaper than equivalents in San Mateo or other Silicon Valley suburbs.  
But dozens of cities around the country have their own perks. And the same work from anywhere culture that allows tech moguls to be away from Silicon Valley applies to their underlings, too. Even if they could make a go of it in Miami, why would they choose that city when there are better alternatives elsewhere?
A similar logic applies to the tech moguls themselves.  It is no coincidence that the hype about the imminent relocation of the tech industry to Miami has been during the winter months, when billionaire tech playboys can have a field day in the cool air and warm sunshine.  Once the summer heat and humidity come, and the hurricane season follows, their Patagonia wardrobes are going to start to boil them alive.  It's a fair bet that more than one of them will be seen catching the next flight to San Francisco.
---
Notes:
1. The Daily Mail, Peter Thiel joins rapidly expanding Florida billionaire's club as he buys $18M waterfront Miami mansion once featured on MTV's 'The Real World', January 20, 2021
2. NBC News, Tech flight: Why Silicon Valley is heading to Miami and Austin, Texas, January 24, 2021
3. Interesting Engineering, Boring Company in Talks with Miami for $30 Million Underground Tunnel, February 8, 2021
4. RE: Miami Beach, Miami Beach Gets Strong Response From Developers Who Want to Build Class A Office Space on Three Municipal Parking Lots, February 13, 2021