Today's Opinions, Tomorrow's Reality

By David G. Young
Miami Beach, FL, March 22, 2022 --
Europe is making dramatic changes in the response to Russian aggression that will be with us for decades to come.
The giant tanker Marvel Kite steams west through the English Channel on its way back to Louisiana. Just a few days ago, it unloaded its cargo of American liquified natural gas at the Polish terminal just east of the German border.1 Its capacity of 174,000 cubic meters is enough to heat nearly 50,000 homes for a year.2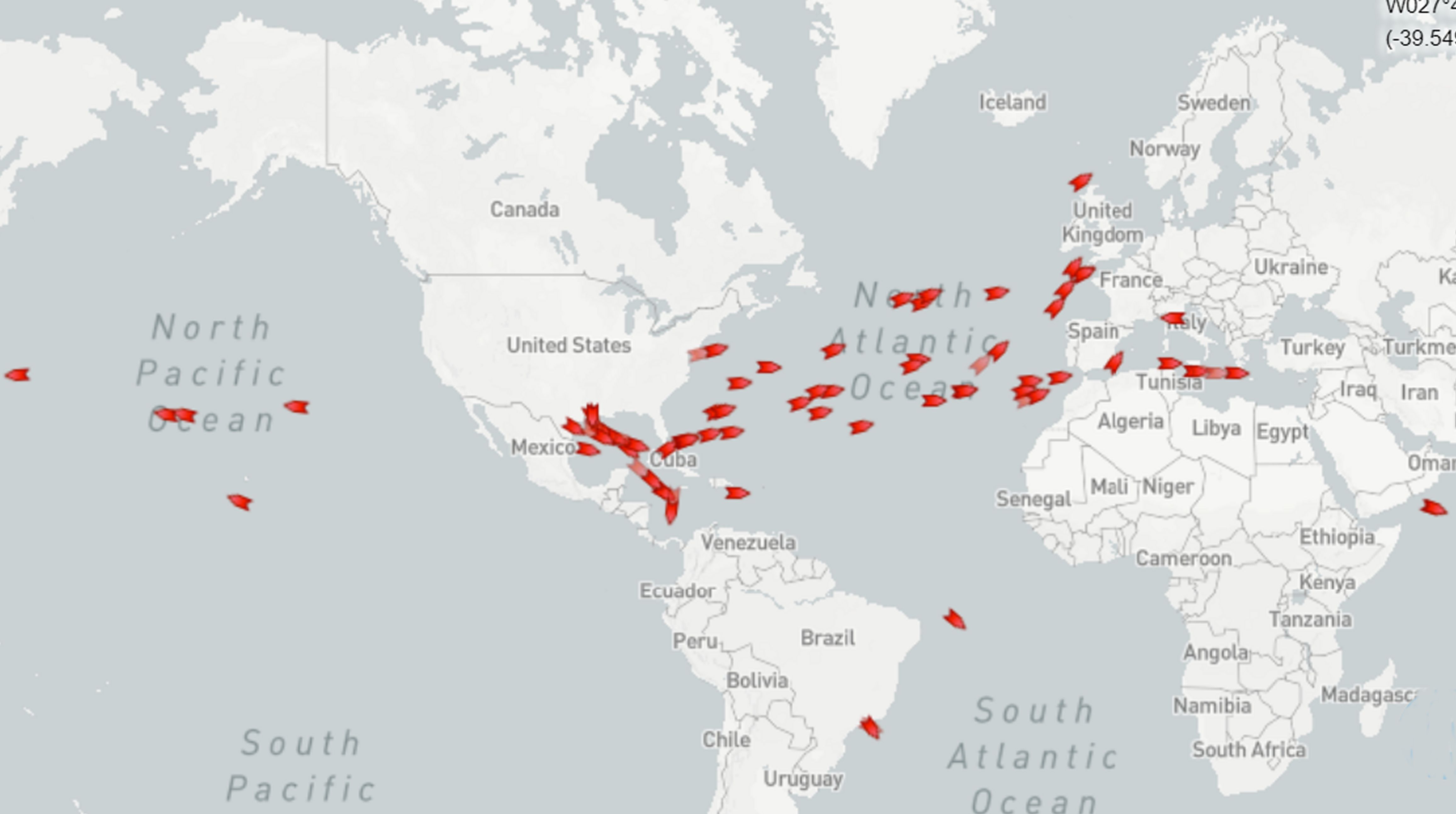 America to the Rescue
LNG Carrier Positions March 21, Courtesy American Shipper and Maritime Traffic
Dozens of other LNG ships filled with American petroleum are currently bound for Europe.3 This giant armada is a hedge against Russia, and reminiscent of the World War II convoys bolstering England in its fight against Nazi Germany.
Analysts are quick to point out American LNG is not nearly enough to replace Russia as the historic and current supplier of natural gas to heat Europe's homes. While this is certainly true, it is not what happens today that ultimately matters -- it is what happens years from now.
Europe is currently undergoing rapid change in the face of Russia's brutal invasion of Ukraine. The optimistic post-Soviet era of military drawdown and integration with Russia's economy has abruptly come to an end. The continent is now in the process of decoupling its economy from Russia and even preparing for war.
Last month, Germany's new government announced plans to more than double its military budget to 100 billion Euros and buy American F-35 fighter jets to counter Russian aggression.4 Much like the shift to American natural gas, Germany's rearmament will have no near-term impact -- its military has been underfunded for decades and it will take years before it can again become an effective fighting force. But again, it is not conditions today that matter -- the changes put in place now will create the conditions of the future.
Europe's commitment to change is clear. Just one month ago, before Russian tanks had crossed into Ukraine, many doubted Germany's willingness to abandon the new Nord Steam 2 natural gas pipeline it built to expand natural gas imports from Russia. Today, not only has the pipeline been mothballed, but Germany has signed a contract to build its first LNG terminal allowing it to directly import natural gas from overseas.5 And the European Union is now discussing banning all oil imports from Russia.6
These big changes are likely to stay in place regardless of what happens in Ukraine. Even if Russia is ultimately forced to withdraw, and the regime of Vladimir Putin falls, things won't be going back to how they were. Poland is understandably spooked by Russian missiles exploding just over its borders. Next-door Germans, who like the Poles suffered under Russian occupation after the Second World War, are similarly nervous.
Once societies commit to change and new policies are put in place, they continue by momentum. Germany's commitment to re-arm itself is a sea-change from its post World War II pacifism. In theory, a country with a GDP more than double that of Russia can easily match its larger eastern neighbor. Just because it is weak today, doesn't mean it always will be.
Consider that in 2014, when Russia first invaded eastern Ukraine and annexed its Crimean peninsula, Ukraine's armed forces were as inexperienced and underfunded as in today's Germany. Now, thanks for fighting experience in the Donbas, help from the West, and a heavy dose of motivation, Ukraine has stopped the advance of Russia and is killing its soldiers by the thousands. Given sufficient time and the will to do so, there is no reason to think that modern Germany cannot accomplish the same.
Europe in 2030 will probably get the vast majority of its energy from sources other than Russia. This will reduce Moscow's ability to hold Europe hostage, and force Russia to reorient its energy exports toward China and other Asian countries. This won't change Europe much -- oil and gas burns pretty much the same no matter where it comes from. But it will change Russia. Cut off from its cultural brothers in Europe, the country risks becoming a vassal state of a rising China.
The important changes going on in today's Europe offer to secure a bright future for the western half of the continent. Sadly, a much darker future awaits the people of Russia, no matter what happens in the war.
---
Notes:
1. Marine Traffic, Marvel Kite Vessel Details, as posted March 22, 2022
2. Alaska Natural Gas Transportation Projects, LNG carriers Called 'Floating Pipelines', April 2014
3. American Shipper, Armada Carrying US LNG Heads to Europe, but it Won't be Enough, March 21, 2022
4. Reuters, Germany to Increase Defence Spending in Response to 'Putin's War' - Scholz, February 27, 2022
5. Euractiv, Germany Signs Initial Contract to Build First LNG Terminal, March 2, 2022
6. Wall Street Journal, EU Support Grows for Russia Oil Ban Over Ukraine War, March 21, 2022